Staying Ahead Of Spit-Ups With Reflux Baby Bibs
Feeding time is a valued ritual that gives parents and babies alike food, opportunities for connection, and growth. However, meals may frequently turn into a challenging event for parents of infants with GERD. Frustration and fatigue can result from frequent spitting up and untidy clean-up. Reflux baby bibs are a useful option that can dramatically enhance the feeding experience for both parent and baby. This in-depth investigation by Cleo & Bebe on reflux bibs will dive into their features, advantages, and the ways in which they may alter mealtime by making it less messy and more joyful for all.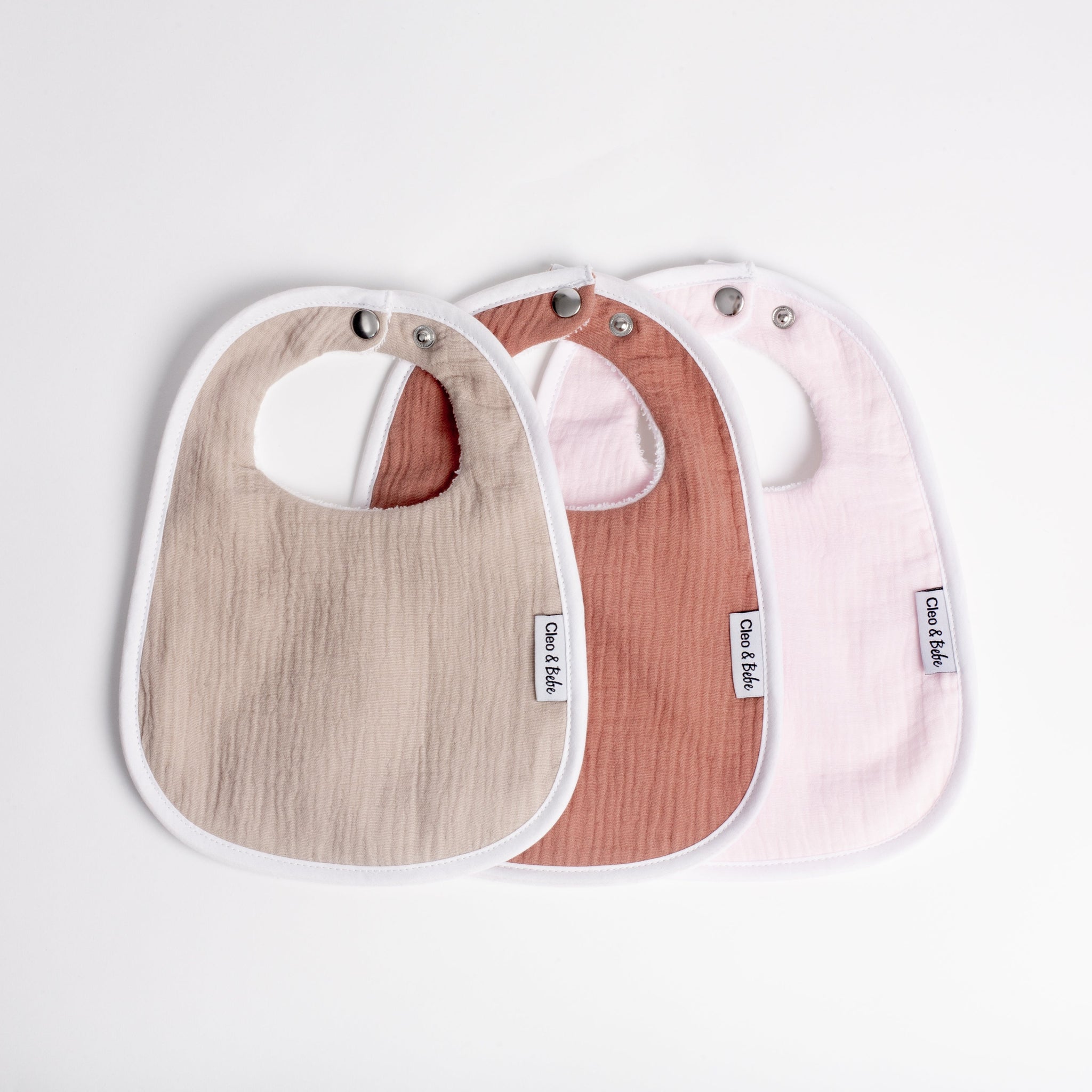 Knowing About Reflux Bibs
Reflux bibs for babies are cleverly created to meet the special requirements of parents whose newborns experience reflux. Reflux bibs, in contrast to conventional bibs, are designed to prevent the numerous spit-ups and reflux episodes that frequently occur alongside feeding. These specialised bibs are made using cutting-edge fabrics and intelligent design elements to precisely address the needs of carers and infants who are reflux-prone.
Important Characteristics
Adaptable Materials
The use of very absorbent materials on the front side of reflux bibs is a distinctive feature. It is amazing how quickly and effectively these fabrics can absorb liquids, spit-ups, and dribbles, preventing them from penetrating the bib and getting on your baby's clothing.
Waterproof Shield With Cleo & Bebe's Innovative Design
A standout feature of many reflux bibs, including those from Cleo & Bebe, is the incorporation of a waterproof backing on the reverse side. This waterproof layer, cleverly concealed within the bib's design, serves as an effective barrier, thwarting the penetration of liquids and ensuring that they do not reach your baby's delicate skin. Beyond its protective prowess, this waterproof shield is a key component in maintaining a consistently dry and comfortable environment for your little one. With the hidden waterproof layer in the middle and a soft cotton towelling back, Cleo & Bebe bibs are not only designed to prevent spills but also to guarantee your baby's safety from irritation and provide them with the utmost comfort during feeding times. This innovative design element underscores our commitment to offering practical yet comfortable solutions that enhance both your baby's well-being and your parenting experience.
Extended Protection
These baby products often provide more coverage than regular bibs. In addition to sheltering your baby's front, this wide coverage also covers the shoulders and sides. Therefore, these bibs provide complete protection from spills and lessen the possibility of messes.
Adjustable Fastenings
Reflux bibs feature adjustable closures that guarantee a snug and comfortable fit around your baby's neck. These closures can be modified to fit your baby's size and comfort level, minimising any discomfort that might occur when feeding.
Advantages Of Reflux Bibs
Less Laundry To Do
Utilising such bibs has a number of outstanding benefits, one of which is a significant decrease in the laundry. You'll find yourself changing your baby's outfit less frequently as a result of these bibs' effectiveness in containing spills and spit-ups, which will save you time and effort.
Enhanced Dryness And Comfort
Reflux bibs are excellent in keeping your baby's skin comfortable and dry, avoiding any potential skin irritations brought on by extended contact with wetness. This comfort benefits both you and your child and makes eating more enjoyable for everyone.
Efficiency In Time
Using GERD bibs turns out to be a time-saving strategy because it requires fewer clothing changes and less time for post-meal cleanup. This extra time can be better spent on strengthening relationships, having fun, or just relaxing.
Stress Reduction
Reflux bibs can greatly reduce some of the tension that comes with meals for parents of babies who have the condition. You can feel more at ease knowing that the bib will contain the mess, which will allow you to concentrate more on the special moments of connection during feeding.
Fostering Moments Of Bonding
You may completely enjoy the thrill of sharing meals with your infant because the bib will keep the mess contained. You can appreciate these priceless moments more fully when you're not always worried about spills and cleanup.
Tips For Effectively Using Reflux Bibs
Select The Correct Size
Reflux bibs should be chosen to fit comfortably, without being either too tight or too loose. A well fitted bib makes sure that your infant is comfortable while eating.
Maintenance And Care
Follow the manufacturer's recommendations when it comes to cleaning the bibs. Many reflux bibs are made to be machine washable, which is convenient for parents who are always on the go.
Using Reflux Bibs To Manage Reflux
Beyond the obvious advantages, such bibs provide a deeper degree of support for parents through the difficulties of newborn reflux. Let's examine a few instances and methods in which these items can significantly alter the situation:
Mobile Feeding
Feeding while on the go may be messy, especially for babies who are prone to reflux, whether you're at a restaurant, visiting family, or just taking a stroll. Reflux bibs offer a transportable way to prevent spills and lessen the need for last-minute outfit changes, reducing the stress of outings for both you and your baby.
Helps With Solids
Babies frequently experiment with textures and flavours as they switch from a milk-only diet to solids, which can cause surprising reactions. Reflux ones might be crucial in preventing unanticipated gagging or spit-ups that might happen during these experimental mealtimes.
Encourage Independence
Your youngster may begin to show signals of preferring to eat alone as they become older. Reflux bibs give children the freedom to do so without worrying about making a lot of messes, preserving a tidy and welcoming eating area while allowing them to fully enjoy their food.
Providing Medical Support For Advice
Paediatricians may advise keeping your infant upright after feedings to lessen reflux symptoms. During these times when your baby is standing up, you can utilise reflux bibs to keep their clothes clean and comfy.
Maintaining Diversity
Reflux bibs can assist in controlling any responses and spitting that may occur when introducing new flavours and textures to your baby's meal.
Embrace Mealtime Joy
Mealtime is an opportunity for interaction, education, and nurturing in addition to providing food. But for parents of babies who are prone to reflux, the difficulties might overshadow these lovely features. Reflux baby bibs work as useful allies by establishing a tidy and pleasant environment so you can concentrate on the joy of feeding while bonding with your child.
By introducing reflux bibs into your feeding regimen, you're creating a positive relationship with food, encouraging independence, and enhancing the bond between you and your child. You're also minimising messes. These bibs offer a practical response to a problem that affects many people, converting mealtime from a stressful time into a chance for interaction, inquiry, and connection.
Taking Control Of Your Parenting Journey
Mealtime is a thread that connects nourishment, connection, and growth in the vast fabric of parenthood. Although reflux may create particular difficulties, it need not limit your experience. Reflux baby bibs from Cleo & Bebe are an effective tool that gives you the ability to take charge of mealtime and change it from a stressful time to a treasured shared experience.
As you continue to manage motherhood, keep in mind that every obstacle offers a chance for development and adaptation. You are able to control reflux and thrive in the messy, wonderful adventure of parenting a baby with the help of such products and the network of parents who share your journey.
Therefore, treasure the memories you are making with your infant and enjoy the delight of shared laughing at mealtime. These bibs provide a useful solution that significantly improves the lives of families all around the world, serving as a monument to the strength of innovation and human ingenuity. You're not simply investing in a tool when you buy these baby bibs; you're investing in the amazing experience of motherhood itself as you use them to tame the mess and enhance the magic of mealtime.